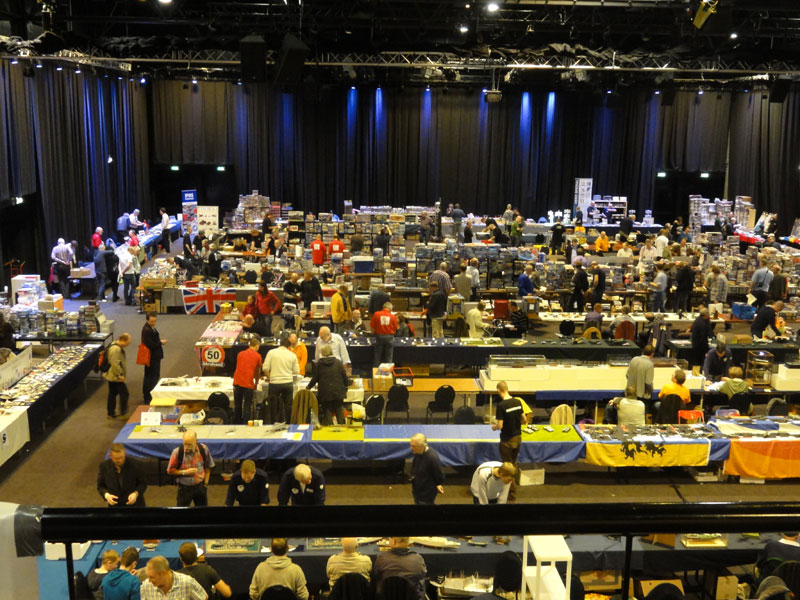 IPMS NL Euro Scale Modelling invitation
9 år ago IPMS Norge Kommentarer er skrudd av

for IPMS NL Euro Scale Modelling invitation
On behalf of the Board of IPMS Nederland, you are cordially invited to attend and take part in our main annual event, IPMS Nederland Euro Scale Modelling.
This event, formerly respectively known as "Nationals" and "Euro Scale Modelling", will be organized for the 25th time this year on October 25, 2014 at the NBC (Nieuwegein Business Centre) at Nieuwegein, near the city of Utrecht, in the centre of the Netherlands.
The purpose of this event is promotion of our plastic modelling hobby, by bringing together clubs, Regional Chapters, Special Interest Groups, Traders and Barterers and all others with an interest in plastic modelling. The event consists of a show, an open competition, as well as an extensive trade fair, and attracts a high number of visitors, every year. There will be ample opportunity to exchange knowledge, skills and views, and to build on new and existing contacts.

In October 2014, for the twenty-sixth time, the leading plastic modelling event of the low countries will again be organized at Nieuwegeins Business Center (NBC), Nieuwegein (near Utrecht), The Netherlands.
The event will comprise of a large exhibition of finished plastic scale models as well as our renowned plastic (scale-)modelling contest. The most exciting and diversified plastic model kit fair of the low countries will complement the event. Our aim is to combine a leading social event for the plastic modeller with a commercially successful day for the plastic model trade. As in previous years, the ESM event will be held at Nieuwegeins Business Center (NBC) at Nieuwegein, near Utrecht, centrally located in the Netherlands. We have reserved the two main NBC exhibition halls – the «Grand Hall» and the «Event Hall». IPMS clubs and their Regional Chapters, Special Interest Groups and other modelling clubs (many from abroad) will participate. Also Traders/merchants and private sellers will sell model kits, products and accessoiries.
Some key-numbers about the event:
• 150 exhibitors and traders are expected to attend, from the Netherlands, Belgium, Luxembourg, Germany, Poland, the United Kingdom, France, Austria, Switzerland and the Czech Republic.
• 2000 modellers, visitors, buyers are expected from all of Europe, both IPMS members and others.
• Approximately half of all Participants will be Dutch and International professional Traders of plastic model kits, tools, accessories, and associated materials.
• The remaining half of Participants will comprise of exhibiting modelling clubs and individual modellers, both IPMS related and non-aligned.
• Group projects and themes will be exhibited by IPMS-Regional Chapters, IPMS-Special Interest Groups, Clubs, and Individual participants, exhibiting their finished and on-going projects.
• Hundreds of models will compete in our Scale Modelling Competition, which will be open to all.
• A separate section of the event will be devoted to paper scale modelling, with many leading Publishers, Traders and Modellers attending.
• And last but not least: our Super Tombola with scores of prizes to be won.
On 4,000 square meters of exhibit space, this one-day-event offers in excess of 1,000 yards of display tables, in a modern venue with restaurant and bar, clean amenities and ample free parking space.
Admittance: € 6,00 per visitor (Free Entry for all IPMS Members carrying a valid membership card), from 10.00 hrs.
Can we participate in ESM as Trader/merchant, plastic modelling club or seller?
Yes, sure. You are most welcome. We hereby invite you to enroll to the event by filling out the appropriate «EN: « form at this website (e.g IPMS Club, Trader/merchant, and other plastic modelling clubs).
For traders a fee is required to cover IPMS Nederland expenses. (this fee is seen in the form itself). Upon your application, we will endeavour to include your request in the available space. Even though we have reserved a very large exhibit area, space is not unlimited. We encourage you, therefore, to enroll early. The ESM-Team will contact you in reasonable time regarding the allocated table-meters.

 NOTE: Information will be updated often, so please visit these ESM pages regularly.
When and where?
Saturday, October 25, 2014
Venue open:
from 08.15, for Traders, for setting up their merchandise;
from 09.00, for exhibiting Club display build-up;
from 10.00 hrs until 17.00 hrs for all Visitors and IPMS-members to enjoy ESM
at….
Nieuwegeins Business Center (NBC)
Blokhoeve 1
3438 LC Nieuwegein (near Utrecht)
The Netherlands
52° 2.808'N, 5° 5.412′ E (location map )
We look forward to meeting you in Nieuwegein, on 25-October-2014!
On behalf of the IPMS Nederland Euro Scale Modelling Team,
Bruno Ghuijs, ESM – Coordinator, IPMS Nederland