Marcus Nicholls
Hello!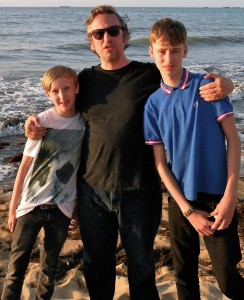 My name is Marcus Nicholls and I am the Editor of Tamiya Model Magazine International (TMMI), a monthly modelling magazine which is published in the UK on behalf of Tamiya Japan. I'm 46 years old and am married with two teenage sons. I have worked on TMMI since October 1991 and have been Editor since 1996. I think I'm the longest serving Editor on the magazine!
I grew up in the town of Hemel Hempstead, about fifteen miles north-west of London. Ironically, this town was the location for Tamiya's importer, 'Richard Kohnstam Ltd', for many years, as well as a home for Revell UK for some while and also the publishing company that produced Military Modelling, Scale Models and other well-known modelling magazines. So my home town has a little history of modelling.
I have been building scale models since about the age of eight and I think my first kit was the Airfix 1/72 MiG-15 in the plastic bag package, bought for me by my dad. I worked my way through most of the Airfix 1/72 aircraft during the 1970s as well as those from Matchbox; kits from these two brands were the ones I built most of at a young age.
I can't remember my first armoured vehicle model but it would have been a 1/72 or 1/76 kit, mostly likely from Nitto or Fujimi. It's amazing how we struggled with those tiny parts as children; building up a King Tiger's interleaved roadwheels in 1:76 is tricky even for an experienced modeller.
I moved on to the 1/24 Airfix aircraft kits after saving my pocket-money for what seemed like ages, but I'm ashamed to say I never actually completed one. Perhaps one day I will!
I think my first Tamiya kit was the original 1/35 King Tiger but I'm not sure. I suppose my favourite subject is military vehicles, but to be honest I enjoy the variety of modelling and have built models in most subject areas.
I am very lucky that I have been able to combine my life-long hobby with my work for over twenty years. The Editorship of TMMI has given me the opportunity and privilege to travel around the world to meet modellers from any countries, check out model shows, shops, factories and more.
I am very much looking forward to my first to Norway in March for Skala, please do come and chat with me during the event!
Marcus